We Have Developed Properties Since
2008

!

Najdovski Invest is a family-run company that develops, builds and manages properties in the Ystad neighbourhood. Sustainability, security and personal care are important things that we value. We always work with the best contractors on the market to deliver high quality apartments. The projects we work on are either owned by ourselves or in collaboration with one or more partners.

Our ambition is to create a significant portfolio of building rights for development and project properties over time, with the goal of producing tenant-owned and commercial properties. We are well on our way. Right now, we are building at full capacity in Ystad's immediate area and soon have more cities planned. What is meant by building too full? Below we give examples of what can happen in two years:

2017-We started to design the residential building BRF Geijer with 7 floors. 34 apartments and 2 penthouse condominiums in central Ystad. At the bottom level there are also 4 commercial premises. All apartments have a glazed balcony to protect against the healthy Skåne winds and for a longer balcony season. Completed in 2018, today everything is sold and the commercial premises are leased by the association to tenants who conduct candy stores, bakeries and beauty salons.

2017-Parallel with the Project above, we started to design the residential houses BRF Sockerhusen 1 & 2. 100 apartments and 7 penthouse apartments in the eastern part of Ystad. We completed the residential building Sockerhusen 2018 when simultaneously two Sockerhusen buildings were started. The first stage comprised of 60 apartments and 4 penthouses. The second stage resulted in 40 apartments and 3 penthouses. The two sugar houses were completed in 2019. All apartments have glazed balconies, to protect against the healthy Skåne winds and for a longer balcony season.

Over 150 newly produced apartments and commercial premises are just the beginning of our journey.

Keep yourself updated on our future projects, maybe we are building right in your immediate area where you live today.
Najdovski Invest – our story.
In 1993 we started a pizzeria where the Brf Tersen property stands today. We operated the pizzeria for 12 years before acquiring the property in 2001 to manage it. At that time, the property consisted of a pizzeria, a welder, a car polishing company and a gas station. We had no plans to rebuild the property, only to focus on managing it in the best way. The company Najdovski Invest AB was founded in 2008 and we then applied for a change of the detailed plan on the property. The result was popular Brf Tersen, a multi-family house consisting of 26 apartments.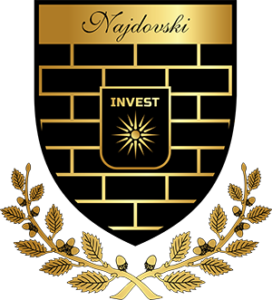 Our new logo!
A logo that both symbolizes what we work with (bricks) and a symbol that stands for success and courage (the Kutlesh sun), just like Najdovski Invest! As we work with the best contractors in the market to deliver the highest quality and make our customers satisfied, it takes courage to build your dream home!